GD5 Backpack Vacuum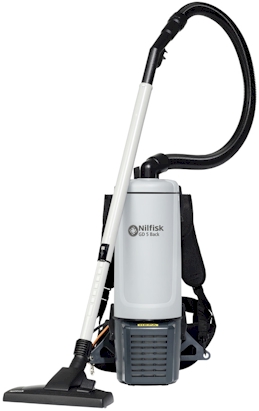 The GD5 is perfect for flexible and ergonomic cleaning for mobile cleaning of hard to reach areas.
There are many things that should be present in a good backpack vacuum cleaner. It should be light in weight, with even weight distribution, and the noise level must be as low as possible. Without these basics, a backpack vacuum cleaner is uncomfortable and impractical to operate. At the same time, the power needs to be sufficient for fast, effective cleaning, and the dust bag must be large enough to avoid constant changing. Above all, the cost of cleaning must be right!
"I love backpack vacuums due to the ease of operation and speed that you can around in, compared to floor machines. Nilfisk is an excellent brand and this backpack has super suction and a sturdy design. Highly recommend to anyone who wants to get the job done quickly and easily!"
The Nilfisk GD 5 backpack vacuum surpass all criteria, with technical advancement that shows in every Nilfisk product, making fast productive cleaning at a price that won't bust your budget.
Low sound level for operator comfort and cleaning in noise-sensitive areas
Lightweight vacuum cleaner and a harness that is ergonomically designed to reduce fatigue
Good filtration with HEPA exhaust filter
Durable construction for longer working life
Containers in different sizes to fit the application
15 metre detachable cable with safety release saves time
Easy to store as it stands on the floor or can be wall hung
Suitable for left or right handed use
Exhaust air designed so that it does not interfere with the operator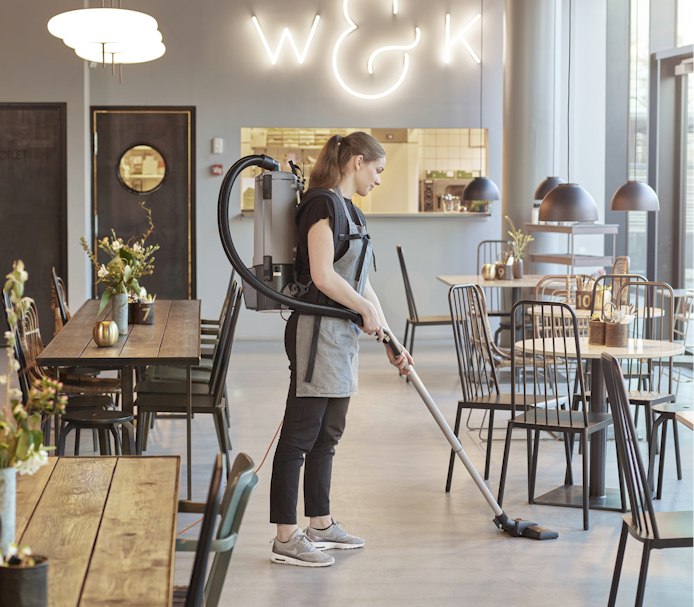 Cleaning with convenience
15 meter detachable cord
Dust bag and filters are easily accessed
Easy to install HEPA exhaust filter as standard
Exhaust air is directed away from the user to avoid heat
Comfortable carrying harness for less fatique
Accessories are stored on the belt for easy access
Quiet motor won't create disturbance
Easy to reach on/off button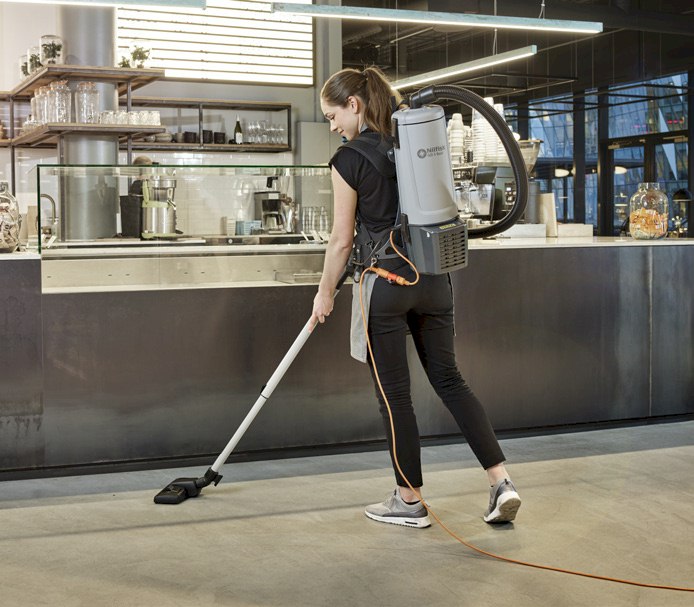 Specifications
| | |
| --- | --- |
| Vacuum Type: | Dry Only |
| Number Of Motors: | 1 |
| Motor Type: | High speed |
| Motor Power: | 1300W |
| Water Lift (depression mm): | 2450mm |
| Voltage: | 230-240V 50Hz |
| Vacuum Airflow (l/m): | 2460l/m |
| Filter Type: | Cloth |
| Filtration Level: | 5 micron |
| Filter Cleaning: | Manual shaker |
| Power Tool Outlet: | Yes |
| Total Tank Capacity (l): | 4.8L |
| Tank Construction: | Polypropylene |
| Trolley: | Tip trolley |
| Toolset Size: | Other |
| Vacuum Intake Size: | Other |
| Vacuum Intake Position: | Central with deflector |
| Vacuum Hose Length (m): | 1m |
| Cable length (m): | 15m |
| Noise level (dB): | 59dB |
Operating Manual & Drawings