Floor Machines
At South Pacific Vacuums we stock and supply a range of quality Nilfisk Floor Machines.
Whatever your requirements we can tailor a solution to your cleaning needs.
Nilfisk SC100
The Nilfisk SC100 is a small scrubber dryer for in-depth cleaning of narrow areas. Compared to the manual solution of mop and bucket, this compact upright machine will get the job done much faster offering a superior cleaning performance.
The machine can be use both forward and backwards as the suction squeegees are located both before and after the brush. Washing and drying are done in one pass, so the area will be ready for use immediately after cleaning.
The value-for-money choice for small shops, schools, restaurants, coffee shops, gas stations, bakeries, fast food chains, hotels, cleaning companies, and also in-home cleaning.
Click here to see more about this vacuum and to submit a quote request.
---
Nilfisk SC250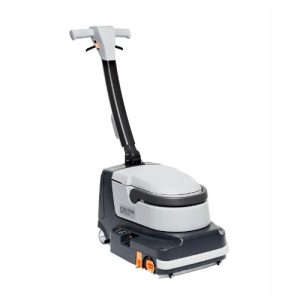 The Nilfisk SC250 is a compact scrubber dryer for fast and effective cleaning of hard floors, which will take you into every corner and ensure efficient cleaning in both directions – also under furniture and shelves.
You will get a light and productive machine with a low sound level suited for daytime cleaning as it is battery-driven. An attractive choice for shops, schools, restaurants, cafes, bakeries, fast food chains, hotels, cleaning companies, etc.
Productivity is high due to the sheer speed of the machine as it is sweeping, scrubbing and drying at the same time, moving both forward and backward. Debris, dirt and even the smallest dust particles are removed effectively by the 34 cm cylindrical brush. For more in-depth cleaning without sweeping feature a microfiber roller can be used as option.
Click here to request more information and pricing.
---
Nilfisk SC351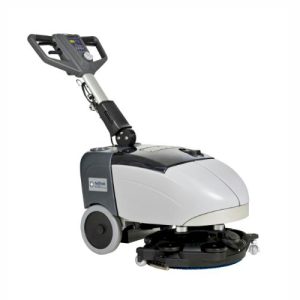 SC351 is offering both forward and backward scrubbing and drying with an impressive brush pressure of 27 kg. Easy to see how useful this feature is for cleaning in crowded places, between and behind tables, shelves, furniture and in other less accessible areas.
SC351 is adding next generation performance to a century of Nilfisk traditions for trusted and reliable cleaning equipment and floor machines.
Ideally suited for cleaning of hotels, schools, small shops, offices, canteens and coffee shops, SC351 is offering unique performance in a small and handy machine. Drop the mop, single disc or heavy, expensive machines and achieve remarkable results with Nilfisk SC351.
Click here to request more information and pricing.
---
Nilfisk SC401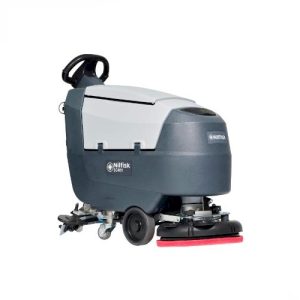 The compact and highly maneuverable SC401 walk-behind scrubber dryer offers all the speed, accuracy and ease-of-use you need for better cleaning of floors. To make things complete this high-performance machine has an extremely low sound level to enable daytime cleaning – even in sound sensitive areas.
Designed and built with proven Nilfisk technology the SC401 will increase daily cleaning productivity in, e.g. offices, shops, hotels, schools, hospitals, work shops etc.. The high and consistent performance is ensured by the 43 cm scrub deck equipped with brush or pad. Thanks to the superior water pick-up provided by the curved squeegee system the floor is left completely dry – and you can keep up the good work for a long time: Up to 4 hours of continuous scrubbing and drying on a fully charged battery, and up to 100 minutes before the solution tank needs to be refilled.
Using the machine is simple and requires very little training. The 4 wheels make the SC401 easy to maneuver, and the OneTouch™ button activates all functions with one click. Furthermore, the cleaning settings can be changed on the fly thanks to the simple 3 buttons on the dashboard.
Click here to request more information and pricing.
---
Nilfisk SC500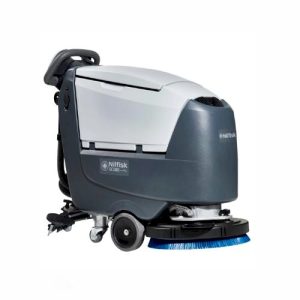 The Nilfisk SC500 walk-behind scrubber dryer is carefully designed to improve productivity and drive down your total cleaning costs. These significant benefits are achieved through more ease-of-use and a series of technical features enabling daytime cleaning and the most effective use of water and detergent. A reliable choice for cleaning companies, hospitals, schools, offices, supermarkets, shops, sports centers, restaurants, hotels, and production floors.
Productivity is taken to a new level by the Nilfisk SmartFlow™ that automatically adjusts the water/detergent solution flow according to the speed of the machine. By using this control, which ensures a consistent cleaning result and an optimized consumption of water and chemicals, the operator can focus on getting the job done.
Click here to request more information and pricing.
---
Liberty SC50 Freedom to do better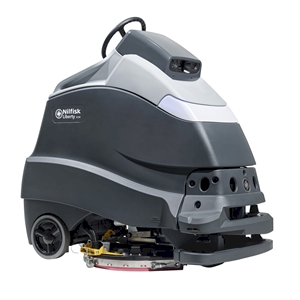 Autonomous floor scrubber for medium to large-sized environments. Allows staff to focus on other tasks while the Liberty SC50 scrubs for 6 hours on a single charge.
Meet Nilfisk Liberty SC50 autonomous scrubber-dryer. After years of developing, testing, refining, live beta testing and more refining, it's ready for the biggest and toughest jobs you can throw at it. In airports, schools, gymnasiums, ballrooms and more, Nilfisk Liberty will get the dirtiest floors clean, any time of day, with no one watching over it.
Clean consistently every time. Nilfisk Liberty SC50 is precise, meticulous, and easy to use. It gets into those nooks and crannies you might otherwise miss, and it does it every single time. In fact, operators – and most autonomous cleaning machines – typically miss 15% of a space. But Nilfisk Liberty SC50's unique technology lets you map out a route that delivers between 98% and 99.5% coverage. You can do it with no help from us or anyone else. And as soon as Nilfisk Liberty SC50 has cleaned an area once, it precisely retraces the same path again, and again, and again.
See more about this amazing machine here or touch base here to request more information and pricing.
---
Nilfisk SC800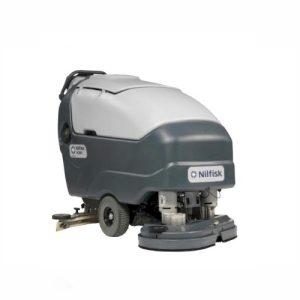 SC800 is designed for maximum performance, easy handling, low maintenance, superb cleaning results and yet it is an eco-friendly solution.
SC800 walk-behind scrubber dryer is designed for heavy-duty cleaning but is easy to handle and flexible in every day cleaning situations. It is ideal for routine cleaning from ultra light to heavy scrubbing such as entryways, spill cleanup, grease removal, grout and porous-surface cleaning.
The SC800 can clean with water only for detergent residue removal. Combined with a new squeegee concept SC800 provides more effective water collection, and together with the powerful vacuum motor ensures that the floor dries quickly.
Click here to request more information and pricing.
---
Nilfisk SW250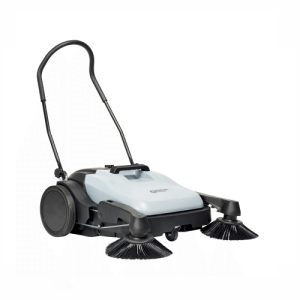 Keeping your premises in good and inviting condition for customers and employees has never been easier. As floor machines go, the Nilfisk walk-behind sweeper, available in model SW250, offers an impressive performance in outdoor spaces as well as indoor floors. Compared to a manual broom, it will pick up and remove dust, dirt, sand, nails, bolts, cigarettes, etc. up to 6 times faster.
Being compact and light, you can also use the sweeper when space is limited or in congested areas. The broom are rotated by the gear system as the machine is pushed forward by the user, making the sound level low.
There is no motor, so daytime cleaning is an attractive, cost-saving option.
Click here to request more information and pricing.
---
Nilfisk SW750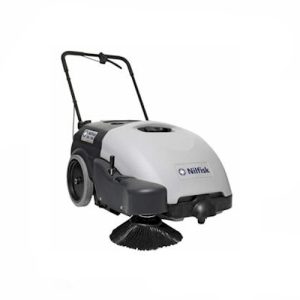 This battery powered, truly versatile sweeper can go anywhere and be used for cleaning everything from retail areas to gas stations. With the carpet kit, it can even clean soft floors.
What's more, it comes with an onboard charger as standard to ensure you save time. Moreover, it cleans so silently that it can be used even in the most noise sensitive areas. At just 59dbA, the SW750 sweeper is suitable for daytime cleaning without risk of causing disturbance. In fact, the entire design is so efficient, and so cleverly thought-out, that productivity is assured even with an inexperienced operator, while operating costs are minimized.
With SW750 you get quality features and better reliability.
Click here to request more information and pricing.
---
Nilfisk SW900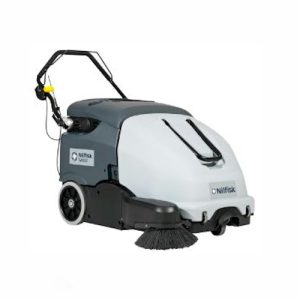 The SW900 walk-behind sweeper for both indoor and outdoor use offers dust free removal of dry debris. It will increase your everyday productivity through new valuable benefits: Total control from operator position, improved ergonomics with hopper on wheels, and higher cleaning performance.
SW900 will offer valuable benefits to businesses looking for a time-saving, more productive and easy-to-use machine ensuring dust free sweeping of dry debris. An ideal sweeper for cleaning contractors, industry and manufacturing, schools, warehouses, hotels, exhibition & congress centers.
Higher cleaning performance and productivity.
Click here to request more information and pricing.
---
All of these Nilfsk floor machines will provide years of quality use.